Definitions & Elucidations
This gallery is unlike any other in creation, in that it is wholly mine. Therefore, you will only see one-of-a-kind items here. You can expect that it will be in a constant state of change, update, expansion and/or exchange. If something you see here gets your "creative juices" flowing, and it gives you an idea for something that you'd like to see here, just let me know. Maybe I already have something in stock, or perhaps we could collaborate on a brand new creation.
Pens
Most of my pens are in the $30 to $50 range, and generally have either Parker style or Cross style inserts.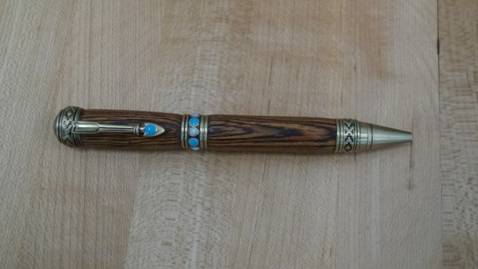 Southwest Pen - Pewter & turquoise with Bocote wood. Also available in Brass or Copper. Parker style refill.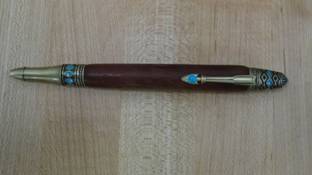 Southwest Mesa Pen - Pewter & turquoise with Manzanita wood. Also available in Brass or Copper. Parker style refill.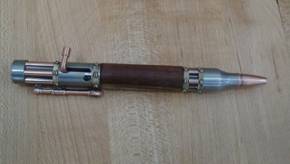 Steampunk Pen - Pewter & Copper with Black Walnut wood. Bolt action operation. Parker style refill.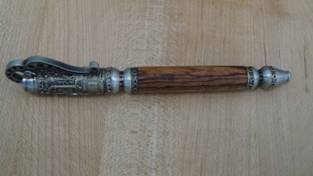 Steampump Pen - Pewter with Bocote wood. The pump handle operates the pen. Parker style refill.
This category is generally the potpourri family. The turned wood vessels are usually six inches or less in diameter, and usually two to four inches high. The lids can be pewter, brass, filigree, embroidered, ceramic, cloisonne, or Staffordshire bone china, among others. The lidless vessels are candy dishes and the like, or simply conversational pieces. They are usually turned of highly figured wood, and polished to a high luster.

This four inch by eleven and a quarter inch bowl is an excellent example of the fiery red coloration often found in Box Elder.

This Cocobolo (a Mexican Rosewood) Bowl is 2 inches high, and 10 1/2 inches in diameter.

This is the same kind of English Boxwood that generally grows shrub size, except when it ages by about four centuries, which this one did. That accounts for its size, which is six inches high, and five inches in diameter at the natural-edge rim.

This eclectic piece is turned from Holly. It is 2 1/2 inches high, and 12 1/2 inches in diameter. It includes a turned acrylic marble, which is as close to real pearl as acrylic can get. Use it to practice your roulette moves.

This highly polished Cherry Burl Bowl measures 3 7/8 inches high and 4 7/8 inches in diameter.

Ikebana: (a Japanese term meaning flower arrangement)

This arrangement is a Cherry Burl vase, decorated with turned Black Walnut Cat Tails on 1/8 inch dowels. It is 38 1/2 inches high. The base alone is five inches high and six inches in diameter

This is a picture of the entire piece, which would be a stunningly attractive conversation piece in your foyer.

This Cherry vessel measures 3 inches high, and 6 inches in diameter. With the arrangement pictured, it stands 40 inches high.

Cedar Vase

Live Oak Burl

Cedar Vase

Yes, pictured here is indeed a poison ivy vine. It is nine inches tall and six inches wide, and has a flanged glass tube in the center, in which you may arrange live flowers. It is guaranteed to stimulate, if not dominate conversation. Its $600 price tag is based not so much on craftsmanship (though impeccably outstanding), as on its obviously unique stature in the turned wood kingdom.

A pear of pear,
a single pear,
and not a pair,
of Bradford Pear.

It's six inches in diameter, and nine inches high.

Bradford Pears (Smaller Version)

Some pears of pear,
no single pear,
and not one pair,
of Bradford Pear.

They're about three inches in diameter, and about four inches in length.

Uncategorized:

Lazy Susan, turned from Box Elder. It is 1 3/4 inches high, including the turn table, and 14 1/4 inches in diameter.

Lamps:

This is a lamp turned from Holly. The base is turned and is highly polished. The body is natural root stock. It has a 3-way switch. It is 21 1/2 inches high. The shade is not included, as you'll probably want your own.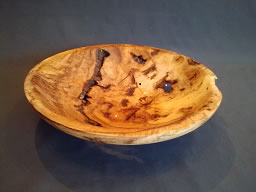 This is a 19 inch bowl turned from a Hickory Burl. It obviously has not been designed by The Creator to hold liquids for any extended period of time, but will hold solids of every sort visual pleasure, as well as culinary delight.